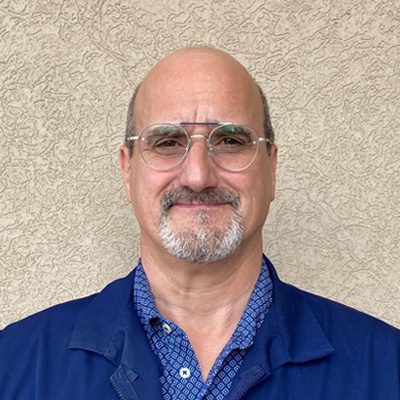 Chiropractor
Nick Psaltis, D.C.
Dr. Nick Psaltis has been practicing chiropractic for over 35 years since graduating from Palmer College of Chiropractic in June of 1987. He has garnered a variety of accolades during his time in practice, such as serving as the official chiropractor for both the Rockford Ravens Rugby Club and the Rockford Ice Hogs professional hockey team.
He is both an International Chiropractic Association and Illinois Prairie State Chiropractic Association member in good standing. He has been the alumni president of Pi Kappa Chi Chiropractic Fraternity since 1996. Similarly, he has been achieved awards for his service through chiropractic. He was given the Dr. David D Palmer Athletic Trust Award in 2015 due to his outstanding service as a Palmer Chiropractic Rugby Alumnus, and he was inducted into the Pi Kappa Chi hall of fame. Through over three decades in practice Dr. Nick reflects on his life fondly.
"I was first exposed to chiropractic in 8th grade. I hurt my lower back severely playing football and was unable to regain function until I starting healing through chiropractic care. I went to a chiropractor in Rockford named Dr. Miller, and the effectiveness of his work fascinated me. It was then that I decided to pursue a career in chiropractic. Today, the most rewarding part of my profession is sharing and connecting with each patient."
Chiropractor
Daniel Psaltis, D.C.
Dr. Daniel Psaltis was born in Rockford, IL and grew up playing football and rugby. It was in these sports where he developed an appreciation for the human body and performance. During his college years he played rugby at Colorado State University and worked with the team chiropractor, while he studied Health and Exercise Science with a concentration in Sports Medicine.
He eventually received a Bachelors in science and graduated Cum Laude from Palmer College of Chiropractic with his Doctor of Chiropractic Degree. Dr. Daniel has completed a chiropractic mission trip in Fiji, giving chiropractic care to locals and has cared for many Olympians and high-level athletes. Now in his 4th year in practice Dr. Daniel is grateful.
"I am so thankful to have taken care of so many types of patients, and I wouldn't trade this career for anything. I love practicing in my hometown because I feel so connected to this community, and I am really devoted to making it a better place. We set ourselves apart at Psaltis Chiropractic because we provide the highest level of chiropractic care, but we make our appointments affordable and flexible as well. I am always excited to see my Rockford patients get better and get back to the best versions of themselves."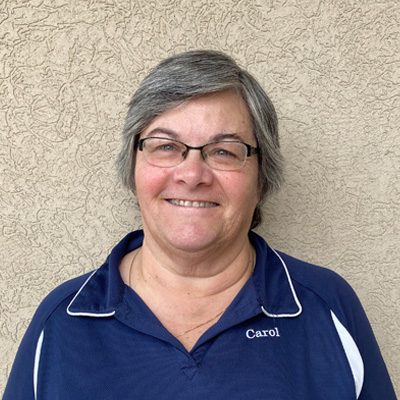 Carol
Carol is from Rockford and graduated from Jefferson High School. Her and her husband Pete have been married for 38 years and have two children and one grandchild. Jon is 33, Rebecca 31 and Ryleigh is 10. She loves to bake and make crafts. The Chicago Blackhawks and Cubs are her favorite sports teams.
Prior to working here she worked at Liberty Mutual and KDA for 10 and 12 years respectively. She has worked with Dr. Psaltis for 20 years.
2 ironic things about Dr. Nick, Julie & Carol – all 3 of us were born at different Rockford hospitals and all 3 of us went to different Rockford high schools.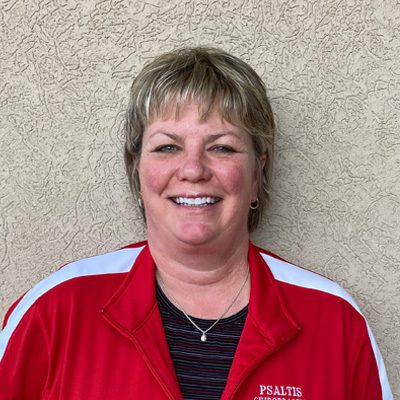 Julie
Julie is a Rockford native and graduated from East, Rock Valley College and NIU. She is a volunteer for the American Brittany Rescue and all 3 of her dogs have very unique rescue stories. She is an avid Green Bay Packer, Chicago Cub, Chicago Blackhawk, and Wisconsin Badger fan. How does that happen? In her free time she enjoys going to the dog park, working out, reading and working in her yard.
A couple unique things about her……
Her cell phone number was her grandparents' phone number, then her parents' phone number and then hers after graduating from college.
All of her immediate family graduated from East High and also her Grandma, making them a 3 generation E-rab family. She has worked with Dr. Psaltis for 22 years.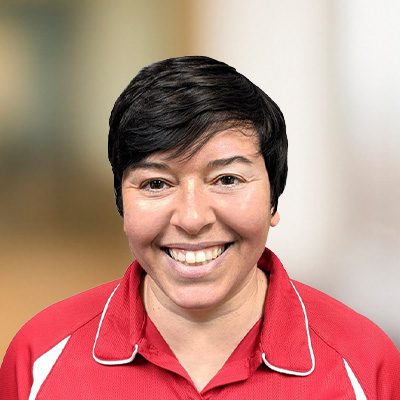 Abbey
Abbey is a Rockford native and graduate of Jefferson High School. She earned her BFA at the Milwaukee Institute of Art and Design, graduating with honors, with a major in Illustration and minor in Writing. Abbey has always been creative and frequently has several projects ongoing, including crafting in wood, making candles and soap, designing digitally, and sewing.
She also likes to plant a large vegetable garden in the summer and has a knack for growing tomatoes. When she isn't making or growing something, she cares for her two pet snakes; Chimes, a snow morph corn snake, and Oberon, a wild-type ball python. She enjoys watching hockey and the Chicago Blackhawks are her favorite sports team.
Monday
7:30am - 12:30pm
2:30pm - 5:30pm
---
Tuesday
10:00am - 1:00pm
3:00pm - 6:00pm
---
Wednesday
7:30am - 12:30pm
2:30pm - 5:30pm
---
Thursday
10:30am - 12:30pm
2:30pm - 5:30pm
---
Friday
7:30am - 12:30pm
---
Saturday & Sunday
Closed